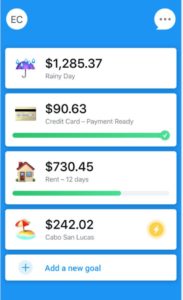 The are our absolute favorite saving money apps for iPhone. Saving money doesn't need to be hard. Put your money to use with these great apps that take the difficulty out of saving.
Digit is our favorite from the list. It does such a fantastic job of helping you save your hard earned money into an FDIC-insured account to keep save and stack up into different piles for you. All automatic.
Digit finds ways to adjust your saving levels based on how aggressive you want to be in your settings. You can also get a nifty saving bonus every 3 months that will give you a cool 1% extra.
Mint is a brilliant app that helps you save more money. This doesn't sock away your savings for you like Digit, but it does help you budget and figure out where your money is going.
It is a great money manager that will help you save more and you can track your spendings and import your balances from checking, savings, and retirement accounts. Tracking your spending is the best way to see what you're wasting money on. Too many bills? Here are some ways to save money cutting cable.
Acorns looks at your purchases, rounds up, and invests the difference. The app also allows you to choose how aggressive you want to invest. This is a solid choice for new and seasoned investors alike.
If you're new to investing, this is a great starting point with little to no barrier. You don't have to be a Wall Street wizard, and this gets you in the money saving game while building interest over the long-term.
Trying to save money can be difficult, but with modern technology, saving is becoming simpler than ever. These saving money apps for iPhone are easy and they're going to help you store up your savings easily and effectively.
Please follow and like us: